Missouri's Best is back with a bit of a twist this year. To recognize legal professionals from around Missouri, we've decided to break some categories into geographic winners.
Basketball coach extraordinaire John Wooden said, "Winning takes talent, to repeat takes character." If so, there is quite a lot of character atop the Missouri legal profession.
Our third annual Missouri's Best Readers' Poll includes many familiar names.
Among them: Bryan Cave has returned as Best Law Firm, though this year we broke the list into large, medium and small firms. Judge Richard Teitelman nabs his second trophy for Best Supreme Court Judge.
Scott Rosenblum remains the Best Lawyer to Turn to if You Are Accused of Murder. And Alisse Camazine seemingly can't be beat as Best Divorce Attorney.
But voters from around the state crowned many first-time winners, as well. Michael Greenfield of Washington University takes the honors for Best Law Professor; The Lawyers Association of St. Louis' Gridiron Show got serious and won Best Law Event; and Jim Lemonds, a solo, won the Best Litigator title.
New this year was regional voting in some categories. So for Best Circuit Judge, you'll find winners in the Eastern (David Mason), Western (Michael Manners) and Southern (J. Dan Conklin) districts.
We also have new categories, such as Best Associate Court Judge, Best Court Commissioner and Best Lawyer to Get Your Patent Pending.
Three people won without getting a vote. In our drawing for a Flip digital video camera, the winners are Kimberly Overstreet of Kansas City, Debra Gullett of Nixa and David Edmonds of Kirkwood.
Thanks to the more than 600 legal professionals who took the time to vote this year, and congratulations to all of the winners.
Richard Jackoway
Editor, Missouri Lawyers Weekly
Click here to read the complete 2009 List of Winners
Below are profiles of selected winners:
Best Appeals Court Judge (Western)
Best Appeals Court Judge (Eastern)
Best Appeals Court Judge (Southern)
Best Lawyer If You Fall and Can't Get Up
Best Lawyer to Call if You Want a Divorce and Best Lawyer if the Paternity Test Comes Up a Match
Best Lawyer If The Bank Wants Your House
Best Appellate Win During the Past 12 Months
Best Associate Circuit Court Judge
Video from the 2008 Missouri's Best Awards luncheon
Profiles of the 2008 Missouri's Best Awards winners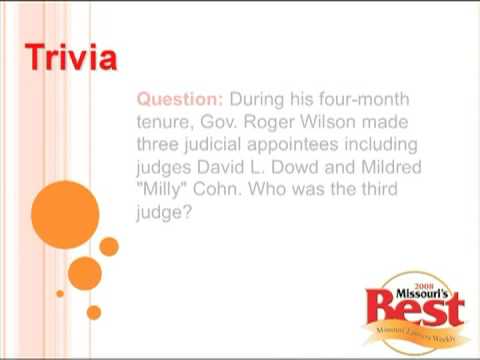 2008 Missouri's Best profiles:
Best Law Firm for Minorities: Bryan Cave
Best Law Firm for Women: Bryan Cave
Best-Dressed Woman: Joyce Capshaw
Best-Dressed Man: Scott Rosenblum
Best Solo Practitioner: David Ransin
Best Supreme Court Judge: Richard Teitelman
Best Circuit Judge: Michael Manners
Best Appeals Court Judge: Ken Romines
Best Lawyer to Call if the Bank Wants Your House: James R. Brown
Best Lawyer if You are Injured at Work: Nancy Mogab
Best Lawyer to Call if You Are in an Accident: Steven B. Garner
Best Lawyer to Call if You're Accused of Killing Someone: Scott Rosenblum
Best Lawyer to Call if the Surgeon Left a Sponge In You: Jim Bartimus
Best Lawyer to Call if the Photocop Snaps a Picture of Your Plate: Chet Pleban
Best Lawyer-Turned-Politician: Attorney General Jay Nixon
Best Lawyer if the SEC Calls: R. Randall Wang
Best Lawyer to Sit Next to at a Law Event: Terry Crouppen
Best Litigator: Gerard "Jerry" Carmody
Best Managing Partner: Ron Brown
Best Pro Bono Effort: Legal Services of Eastern Missouri
Best Law Professor: Ed Hunvald
Best Prosecutor: Bob McCulloch